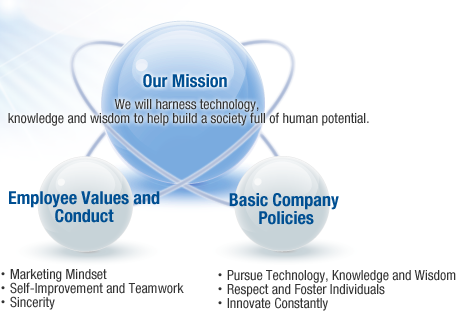 Our Mission
We will harness technology, knowledge and wisdom to help build a society full of human potential.
By developing systems we will work to help bring about a society full of human potential and happiness. In order to fulfill this mission we will continue to assemble technologies and knowledge, create world-class systems and make even further progress.


Employee Values and Conduct
Marketing Mindset
We pay close attention to society at large and work to improve our ability to understand society's needs and provide market-leading proposals.
Self-Improvement and Teamwork
We strive to constantly improve ourselves and serve as professionals with exceptional capabilities. We value both autonomy and collaboration in order to generate the best possible results as a team.
Sincerity
We conduct ourselves properly and responsibly with respect to customers, colleagues, the general public and the environment. We are always sincere in our actions and never forget the proper mindset and pride of a true professional.


Basic Company Policies
Pursue Technology and Knowledge
Be proactive in our actions and investments in order to further the company's technologies and deepen its knowledge.
Respect and Foster Individuals
Respect the ambitions of our employees, actively foster the abilities of each individual, and strive to create opportunities and conditions for those abilities to be demonstrated.
Innovate Constantly
Constantly strive to be a better company by continuing to change in a timely, flexible manner.